Discussion Starter
·
#1
·
I daily drive my '77 LTD with a 351 Windsor with a 2-barrel carb (I think it's the 2150; picture below of the tag on the carb).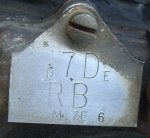 I've had the car around ten years now, and I'd say the carburetor is due for attention/replacement. It's functional, but it could be better.
I'm looking for recommendations on the best path forward. I'll run through what I've noticed and then what I'm trying to achieve. This will be quite lengthy, so bear with me.
Currently the car starts right up when it's cold; don't even have to press the pedal. However, the engine chugs when temperatures are below 55ish until it warms up. (If the car has been sitting for a long time; it will take a few pumps to get it started, but that doesn't seem abnormal or unreasonable.)
The last year or so the car has started to become fairly difficult to start when the engine is
warm
. For years it has required a little bit of attention when starting warm (would have to hold the gas pedal in a specific position while starting), but lately it's been significantly more temperamental.
Since I bought the car, the engine almost without fail hesitates once for just a moment shortly after it is started. The time it takes for this to happen is not consistent, but generally occurs within the first minute of running. If it's idling, you can hear it and then the engine picks right back up. If you're driving, the car often stalls; not good when trying to pull out of a parking lot onto a busy street. It was minor enough that I've just dealt with it, but I'd really like it to go away.
If I give it too much gas at once, the engine hesitates and under some circumstances (usually if it's cold) will stall. I replaced the accelerator pump several years ago which seemed to help with this (the old one was damaged if I recall) for a little while and then the problem came back. I decided to change it again within the last week since the part is so cheap just to see what would happen; helped maybe
a little
bit but did not completely eliminate the problem. I am noticing gas leaking out of the weep hole since putting in the new one, which doesn't seem right.
Pressing the gas right after making turns (most noticeably with right turns) when the engine isn't completely warmed up will make the car bog down and backfire and will sometimes stall the engine.
I noticed that a vacuum line was taken off this gizmo and plugged with a bolt.
I have no idea what this thing is. It's connected to a plate that sits between the carb and the intake manifold. Whatever it is, it's been disconnected for at least ten years, but I decided to hook it back up and see what happened. It seemed to have zero effect on idle or ability to start at different temperatures, but when the engine was under load (i.e., when driving) the car started running really poorly. It'd be fine and then almost stall, then be fine, then almost stall. Taking off from stoplights was almost impossible. After a few miles of this, I disconnected the vacuum line and re-
plugged it and the problem went away. I'm curious what this thing is and what sort of negative side effects not using it might have.
In general, the engine idle just feels a little rougher with more noticeable engine vibration than it did when I first got the car. It's very subtle and maybe it's just my imagination, but my memories of ten years ago have the car running smoother (in the past people wouldn't even realize the car was running if we were sitting in a parking lot with it idling). Engine mounts were recently replaced with no improvement to the mild engine vibration.
So with those current problems in mind, below are my priorities and concerns.
Priorities:
Responsiveness. My driveway exits onto a very busy road. Having the car hesitate or stall when exiting the driveway could easily result in an accident. I need the car to perform consistently when I hit the gas. Doesn't need to be fast, just needs to be predictable and reliable so that I can judge when it's safe to pull out and don't have to worry about stalling.
Reliability. This is my daily driver, not a showpiece that gets trailered around. It's never left me stranded anywhere, and I want it to stay that way. This car has less than 100,000 miles and I plan to drive it until it dies. While it is my daily driver, I drive it less than 5,000mi/year. It never sees snow, so rust is not an issue. So I'd like to think I'm looking at a couple more decades before this drivetrain bites the dust. Maybe my expectations are too high, but I'd like a carb that will last the remaining life of the car. I only put ethanol-free gas in the car, which should go a long way in preventing carb deterioration.
"Good" fuel economy. This car will never be fast, and it doesn't need to be. I average 12mpg around town with the AC running now. Getting a tuner carb that gets 10mpg and boosts my performance would be undesirable. I have no gripe with improved performance, but not if it comes at the expense of gas mileage. I would welcome a carb that gets better mileage if that's possible, but I don't expect that. It's a heavy car with no overdrive; it's going to use gas.
Lower idle speed. I think I've read before the stock idle speed on these cars is like 1,100 RPMs. To me, that's just too high, but the car just really doesn't idle well once in gear if you go below its current high setting. If there are options out there that can idle at a lower speed, I would love to make that change. But if it's just a requirement for these engines regardless of the carb, then it is what it is. I do use my AC, so that "sometimes" load on the engine may be another factor that just requires a higher idle when the load isn't present.
Price. I'd like to be able to do this for under $300, but I don't know if I can get a quality carb for that. I suspect I won't be able to get something that'll last decades and be cheap.
Stock(ish) appearance. I don't really care what the carb itself looks like, but I'd like to keep my original air cleaner, or at least something that looks tame. I don't want to have to switch to a cheesy chrome air cleaner with open sides or something like that. That's fine on a muscle car, but silly on a family sedan. This is a minor desire, so if there really is a fantastic and cheap carb out there that requires a silly air cleaner, I would make that sacrifice.
Reservations:
I'm leery of doing too much to my current carb. While a bit fussy, it is still functional and gets me from A to B. It's a safe fallback if a new carb has issues. I've rebuilt a carb or two in the past with lackluster results (read as: the rebuild offered zero improvement). Carb parts are delicate, and I'd hate to do something to mine and make things worse. I also had an LTD II a few years ago with a similar (if not identical) carb and it was a real bear to get running well enough to drive; never got it perfect. I've also been told Ford carbs of this era are incredibly finicky. Don't know if that's true, but it adds to my apprehensiveness to touch my current, mostly-working carb.
My understanding is that buying rebuilt carbs can be really hit or miss. I just had to replace a carb on another car that was beyond repair. The first carb I got from the parts store had a stripped fuel inlet and quickly developed float issues as well. Second one from the parts store was pretty filthy; installed it today. It's running fine at the moment, but we'll see how long it lasts. If there's a vendor that offers known quality rebuilds every time, I'd be fine with a rebuild. But I'm not sure such a place exists in this day and age.
I question electric chokes (which all aftermarket carbs seem to have). While I'm sure they are technically functional, they seem a bit stupid. My understanding is they are basically a timer and don't take into account actual engine temperature. My LTD gets driven in weather from 40°F up to 100°F. These different temperatures will definitely result in different engine warm-up times. I'd like my choke to behave accordingly instead of always behaving the same. I checked my hot air choke today and it is still functional (don't know if it's adjusted correctly, but it slowly opens as the engine warms up).
I spotted this carb that piqued my interest:
Buy NENKUTEN 2 Barrel Carburetor 2100 2150 A800 Carb for Ford 289 302 351 Mustang Cu Jeep Engine F100 F150 F250 F350 Jeep 360 Cu with Electric Choke Fuel Inlet Gasket Float Level Ruler: Carburetors - Amazon.com ✓ FREE DELIVERY possible on eligible purchases
It's cheap, it's new and not rebuilt, and has good reviews. It looks almost identical to my current carb with a couple minor differences that don't look like they'll be a problem. One of those differences is an electric choke. It's also made in China. At $80, I question the longevity. Amazon is good about returns, so trying it out feels pretty low-risk...unless it leaves me stranded fifty miles from home.
Bearing everything I've said in mind, I'm looking for recommendations on how some of you might proceed in my situation with my requirements.